The Best Birthday Parties In Springfield
Birthday Parties Don't Have To Be Stressful
Jumping Jacks has everything you need to take the stress out of planning your childs birthday. With our convenient online booking, it's as easy as point, click, and checkout. Simply find the items that fit the theme of your childs birthday, add them to the cart and check out. We'll handle the rest. One of our staff will reach out 24-48 hours before delivery to schedule.  Our cancellation policy is easy; if you need to cancel before any reason, we just ask that you tell us before delivery morning. Cancellations for any reason will be given a full refund. You also don't have to worry about on time delivery. All residential weekend rentals are Friday delivery and Monday pickup. You get to celebrate all weekend long!
Popular for Birthday Parties
Jumping Jacks offers party packages for all ages. Celebrate your childs birthday in style with a bounce house and party food items. You can choose from any bounce house or bounce house with slide and a concession item. We've even partnered with NoBaked Cookie Dough to bring you a birthday package all the kids will love.
Your family can celebrate your childs birthday all weekend long. All residential inflatables are delivered on Friday and picked up Monday. Your child will get time to have the inflatable all to themselves and share with their friends at their party. If you have multiple children with close birthdays, have multiple parties at once.
When It Comes To Birthday Parties, We Deliver!
Jumping Jacks delivers from Fair Grove to Bolivar, to Republic and Rogersville and everywhere in between. We are licensed and insured in the state of Missouri. All of our bounce houses and other inflatables are thoroughly inspected and cleaned between every rental. Your kids safety is our number one priority.
If you have limited funds but a large guest list, renting a bounce house could be the perfect option to celebrate your childs birthday. There are no limits to how many can attend just how many on at a time. Each inflatable can support up to 200lbs per rider and 900lbs total weight allowing multiple kids to jump at once. These aren't your run of the mill Walmart bouncers.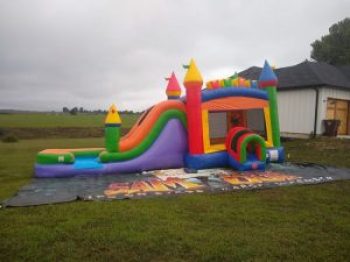 outstanding customer service! excellent products and selection!
I rented chairs and tables for a wedding. I was very pleased that I could text with the company and talk to a live person about ordering. Texting made it so much easier. Everything was good quality and looked beautiful!
Jumping Jacks really helped make our party a hit. The kids really enjoyed the bounce house. Look forward to renting again.
Stress free booking, delivery and pick up process.
Excellent! Very well organized! Our event went off without a single hiccup. Couldn't ask for anything more than the excellent service we received! My highest recommendation!
What a great experience!!!! They showed up on time set up in 15mn and the fun began...I would recommend this company to anyone looking for a huge boost to their event. When day was donne they showed up and packed away the party. What a great hands free addition to any event
Jumping Jacks exceeded my expectations. Dropped off and picked up slide promptly and when they promised. Charity was very nice and accommodating. Would recommend them to anyone that asks. Can't wait to celebrate and rent from them again! Thank you for making my daughter's birthday so special! She had a blast!
Jumping Jacks Events did an incredible job with correspondence, setting up and taking down the 2 bounce houses that we had for our Fall Festival at Restoration Church Springfield. I highly recommend them! Thanks Jumping Jacks!
Partner Birthday Packages
We've partnered with NoBaked Cookie Dough to bring your kids the best birthday party package around. Go ahead, you know you want some dough.