Dunk Tanks
No Deposit. No Cancellation Fee. Ever!
Be confident in your reservation. Simply E-sign our rental agreement and the rental is yours. No deposit is required; any payment made in advanced is eligible for a full refund if you have to cancel for ANY reason.
Professional delivery to
Springfield MO
and surrounding areas. Please submit a quote or contact us to be sure we service your area.
How To Rent A Dunk Tank
Add the dunk tank to your cart.
Check out and fill in the information to get an instant quote.
Verify all information is accurate.
E-sign our rental agreement signifying you will notify us if you choose to cancel. No Deposit Required. Free Cancellations.
We'll be in touch a few days before your event to confirm delivery.
Dunk tanks can be picked up by customer for a discounted rate. Rate will be adjusted after we receive your quote.
Frequently Asked Questions
How long can is a rental? Our rental duration is up to 3 days.
Do you provide the water? No. Jumping Jacks does not provide water to fill the dunk tank. Renter is responsible for water. We do bring a 100ft hose to make sure we can reach most areas from a standard spigot. Any additional hose can either be rented or you can provide your own hose.
Do you carry insurance? We carry both a liability policy and an accident policy. We also carry commercial auto and workers compensation insurance. If you or your venue requires a certificate of insurance, we can provide one for you.
Do you clean your dunk tank? We clean and inspect all of our inventory in between every rental following a very strict processes and using commercial cleaners to ensure your safety.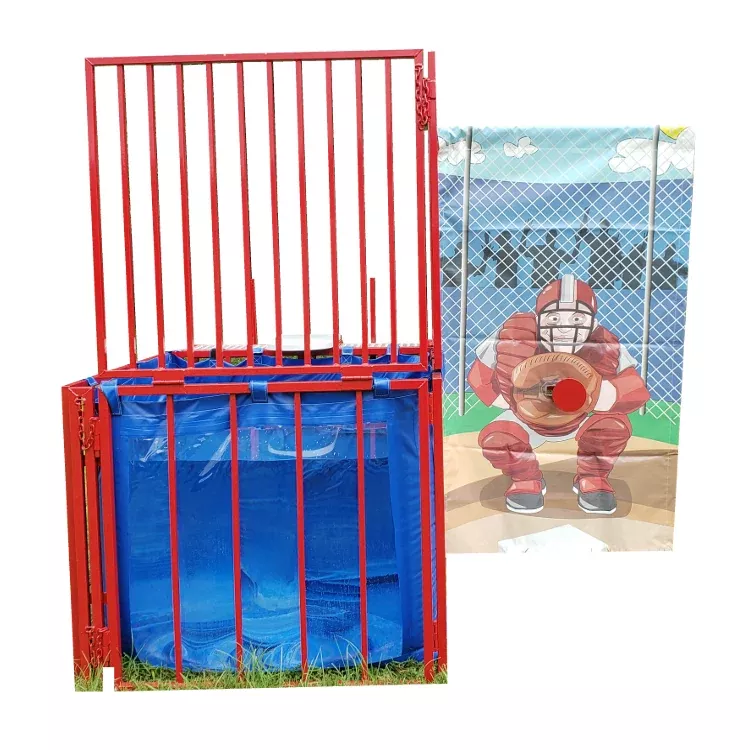 Collapsible Dunk Tank
from $195.00